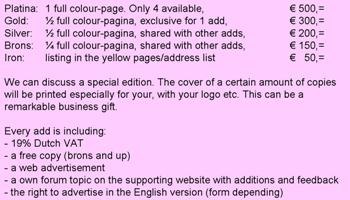 Sign in on our news letter: info@coolywooly.nl

click for more news:
other news
news letter january 2009
news letter advertisers
news letter october 2008
news letter july 2008


Klik hier voor de Nederlandstalige versie
SORRY, YOU ARE TOO LATE

UNIQUE BUSINESS OPPORTUNITY FOR ADVERTISEMENTS
In 2009, a unique Travelguide on Ghana will be launched. It will be a very professional Travel guide in Dutch, aimed to be as enthusiastic as possible. Pictures, backgrounds on Ghanaian Culture, eco destinations and travel stories will be the kernel. Next the guide will provide a limited list of hotels, guesthouses, homestay's, restaurants, touroperators, etc.
This new Travelguide will become the 'must have' for every Dutch Traveller to Ghana. As you know Ghana is popular for Dutch Volunteers to work a few months, and their relatives to pay them a visit. The Dutch love to travel and the guide will be good visible for all those potential visitors to Ghana. They will browse the book in the shop, if not even buy it right away. The (boring) Bradt and the Lonely Planet West Afrika just doesn't do the trick to get more visitors to Ghana. This guide will!. Next to this Guide, we plan to distribute a translation in English.
You are in the tourist business in Ghana. This guide is an excellent business opportunity. By advertising now you will reach more potential customers than any other investment. Next to the add in the guidebook, your add will be on the supporting website, which has a high Google-ranking. Advertisers now, will be certain that they can advertise in the English version. It is included and we only allow a maximum number of adds in the books.
We don't earn money ourselves with this project. We do this as charity, to donate our expertise on travel reports and books to Ghana. The income on adds is needed to produce the book and to get the book in the shelves of as many shops and libraries as possible. Earnings on bookselling is going to Ghana. Exposure on Ghana in, to start, the Netherlands is our aim, and of great interest to you. In short:
Unique
Maximum exposure
Your target group / customers
Travel guide
Extra: personal digital guestbook
Extra: webadvertisement
Extra: be sure you will be in the English book as well
Nice pricing
A project with a higher charity aim for Ghana
Please be welcome as our advertiser. The possibilities are stated above on the right side. Please respond quickly as possibilities are limited. Full is full, also for the upcoming English edition.
MORE INFORMATION?
"Ga naar Ghana (reisgids)" is a project of the Dutch Travel writer Coolywooly Ervaringen and Meet Africa. The project is member of the Holland-Ghana-Platform.
Look in the menu for more info, or mail to: info@coolywooly.nl (also to be used for subscripe and unsubscripe)