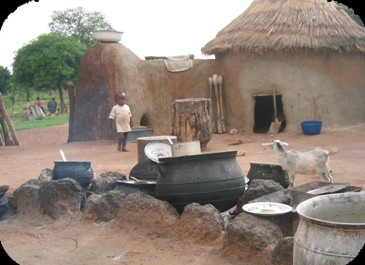 Sign in on our news letter: info@coolywooly.nl

click for more news:
news letter may 2009
news letter january 2009
news letter advertisers
news letter october 2008
news letter july 2008


Klik hier voor de Nederlandstalige versie
NEWS LETTER "GA NAAR GHANA (REISGIDS) - OKTOBER 2008"
With this second newsletter we want to inform you on our charity development project "Ga naar Ghana (reisgids)", in English: "Let's Go Ghana (travel guide)". Having up's and down's we are steady going on. In this newsletter:
- a short reminder on the goal of this project
- the last three months: what has happened
- our anthropologists: Hester Bos and Marleen de Witte
- how does this projects support fighting poverty?
- an innovative development project
- our problems financing the project
- is the forum still open?
- our delegation to Ghana
- change in planning
- Ghanaday 2008, 12 november, Almere Holland
- how can you help us at the moment?


A SHORT REMINDER ON THE GOAL OF THIS PROJECT?
Our goal is to let Ghana prosper from the Dutch drive to travel (and from their spendings). Our mean is, among others, a travel guide, the one we missed ourselves: boosting enthusiasm, deepening and with proper practical knowledge on how to be a good guest. More people should enjoy Ghana and Ghana should enjoy their visits. Our focus is culture, travel stories and (small scale) eco- and 'pro poor' tourism. We are doing charity without any own commercial interests, only for Ghana.

THE LAST THREE MONTHS: WHAT HAS HAPPENED?
After our prior newsletter we primarily were collecting and organizing information. We used our forum, organisations in Ghana, interviews with Ghanaians, expats and other Ghana experts. We used books and authors wrote for us. At the moment we have outlined the travel guide and we are indentifying our knowledge gaps.
We encountered busy-ness in Holland: we had to send a lot of reminders and even sometimes people refrained in the end of contributing as enthusiastically suggested before. Fortunately, others delivered over expectations. Getting mail with enthusiasm and support gave us the energy to continue. For all of you who helped: THANK YOU!!
What we also did in the last months, was looking for funds to finance and to distribute the guide at a serious volume. For this subject, please read further in this newsletter.

OUR ANTHROPOLOGISTS: MARLEEN DE WITTE AND HESTER BOS
Background information on the people of Ghana is one of the three angles of the guide. What are their ethnic cultural roots, how does this manifest itself in nowadays Ghana? What does it mean for the (respected, preserving) behaviour of a tourist as a guest? Anthropologists Hester Bos and Marleen de Witte will help us explain. Certainly, understanding your host is a prerequisite for a beautiful, rewarding and hospitable visit.

AN INNOVATIVE WAY OF DEVELOPING GHANA
Our approach is not a school example of a development project. We encounter this. Building schools, caring for orphans or installing a pump are easier to explain as 'good charity' than a travel guide. People too easily think we have commercial intentions for ourselves. When we talk longer this changes and our project is without any exception considered very positive. We receive compliments on the innovative, strategic approach on developing aid. This feedback is nice for us to hear and it boosts our morale standard. For funding it still is a problem, but that we write further down in this newsletter.

HOW DOES THIS PROJECT CONTRIBUTE TO FIGHTING POVERTY?
This is a question we got many times in the passed months. The 'short' answer is: by getting tourist spendings to fuel fragile rural economies so in the end many families and fellow villagers will prosper. The 'long' answer is written down in our projectplan and in the benefit plans of the development projects on 'pro poor tourim' involved. Our project is providing them structural higher number of visitors/customers by our promotion. The project plan can be acquired by contacting us.

OUR PROBLEMS FINANCING THE PROJECT
Until now we finance the project using our personal funds. We are glad to have found knowledgeable authors, creative photographers and committed reporters all happy to work for us without getting paid. Our substantial own hours and expenses are not covered by income. We accounted for a small grant from the big support funds in the Netherlands, but our project is too much executed in The Netherlands to be covered by their granting policy. Transfer of our office to Ghana would increase the cost base, so we didn't choose for that option. In short: we need money, some € 10.000,=, as a gift or as a warranty/loan. The possibility to advertise is available. And to be clear: a profit selling the travel guide to Ghana will be spent in Ghana for developing tourism in Ghana. How? For this we refer to our project plan. We welcome donations. The bank account number is 52.31.25.720 (The Netherlands). Please refer to "Donation Ghana". Tax deductable gifts are possible. For details contact us.
Without solution for finance, we only can publish the travel guide at a low volume, i.e.: fewer tourist will go to Ghana. Putting it the other way around: háving the money, we can promote Ghana in all bookshops and libraries. In this case Ghana really will prosper from our project (we estimate €50.000,= annually!). Please tell our project around!

IS THE FORUM STILL OPEN?
YES! The forum will stay available to share your experiences on eco- and 'pro poor' tourism with us and with each other: www.coolywooly.nl/forum.html. At a certain point in time, we cannot use new information anymore for the first edition, but for the foreseeable future: please continue filling up the forum. Even after "copy deadline" filling the forum is useful as a base of inspiring knowledge for fellow travellers and valuable lessons to be learned for development projects in Ghana. Please note that "Submit" is the proper button to use as opposed to "save" when you want to post your data. You may use mail as well: forum@coolywooly.nl

OUR DELEGATION TO GHANA
Unfortunately, our delegation with reporters to Ghana is delayed, due to several reasons. This is a pity, but for you it could yield an opportunity: do you want to work at the benefit of Ghana? Do you want to visit for us, at your own cost several less known, but maybe even more impressive destinations in Ghana? Please apply to us.

CHANGE IN PLANNING
Our intended launch at the holiday fair ('vakantiebeurs 2009') on January 14th is not feasible. Our new planning will make the book available before the summer of 2009.

GHANADAY 2008, NOVEMBER 12th, ALMERE (Holland)
On Wednesday 12th we present our plans and progress in the townhall of the Dutch town Almere (partnercity of Kumasi). This year theme is sustainability. Interested in the Ghanaday? Please email: ghanaday2008@hotmail.com. We hope to see you there!

HOW CAN YOU HELP US AT THE MOMENT?
To succeed, we primairily need support to publish and distribute the guide at high volume. Donations in funds or by providing services are welcomed and necessary (pre-press, press, distribution). Please donate or tell about it to potential donors!
Next, the next months we certainly will have specific questions on Ghana, Ghanaians, specific destinations, etc. We hope we can use your knowledge and contacts for answering our questions. We intend to contact you as specific as possible. We also publish our questions on a new section on the forum.

MORE INFORMATION?
"Ga naar Ghana (reisgids)" is a project of the Dutch Travel writer Coolywooly Ervaringen and Meet Africa. The project is member of the Holland-Ghana-Platform.
Look in the menu for more info, or mail to: info@coolywooly.nl (also to be used for subscripe and unsubscripe)