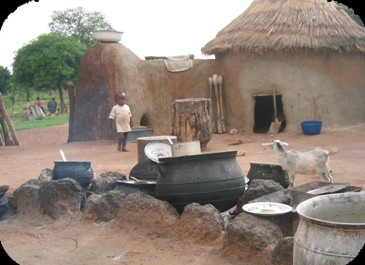 Sign in on our news letter: info@coolywooly.nl

click for more news:
news letter june 2009
news letter january 2009
news letter advertisers
news letter october 2008
news letter july 2008


Klik hier voor de Nederlandstalige versie
NEWS LETTER IV "GO TO GHANA (TRAVEL GUIDE)" JUNE 2009
Now possible to order! The first Dutch travelguide for and on Ghana will be printed in Juli. De title will be "Ervaar Ghana, reis- en cultuurgids" (="The Ghana Experience, Guide on travel and culture". Sign up for a copy!
Next in this newsletter:
- Signing in, free copies
- 14 chapters, a lot of enthusiasting photos, 39 ecodestinations
- Supporting website, Ton van der Lee on "Ervaar Ghana"
- Ghanaian "Verkeersbureau" (=Foreign Travel Information)
- Graphication is designing the book
- Visitors numbers still room for improvement
- Focus on one of our partners: HIVOS
- Ghanaday 2009
- Booking of ecodestinations at NCRC
- Support possibilities: investing in Ghanaian tourism
- The financing of the book, printing, distribution
SIGN IN FOR A COPY AND HELP GHANA
Who orders a copy now, will receive the book by postal mail. All earnings will go to Ghana. You can buy the book later as well, in the bookshop or the online store www.bol.com, but in that case half of the earnings will be spend on cost of sales and just half of it will be available for Ghana. So, please order now. You can order the book by email to bestel@coolywooly.nl with your name, address and number of copies. The price is € 19,95. Ordering now will yield a discount as postal costs are included for shipping within Belgium and The Netherlands. The shipping will start as soon as the book is printed. In the newsletter we will provide more information on the book.
FREE COPIES?
People are asking us if they are entitled to a free copy or discount as they are involved in the project. As the earnings of the book are dedicated to Ghana, we cannot provide this. It would harm the fighting of poverty. Discount will mean less visibility for potential visitors in libraries and booksellers. The best way to get a book as cheap as possible is to sign in now or ask someone to buy it for you as a gift. You can off course buy the book as a gift as well.
14 CHAPTERS IN A SMART SIZE
The travelguide consists of 14 chapters. Each chapter has a central theme regarding Ghana and Ghanaian culture. We have chapters on people, economy, wild life, nature and history. We write also about cultural differences, travel, health, funerals and foreign aid. We collected more than 100 practical tips and a glossary in 4 common Ghanaian languages, like Twi, Ewe and Dagbani. The size of the book is handy: 12x17 cm. The book has a strong but flexible cover, so the book can travel to Ghana with you easily. The number of pages will be around 384.
MANY COLOUR PICTURES
Nice photos are important to show the beauty of Ghana. We were happily surprised to learn that we could afford more pictures than expected. To use this opportunity, we had to rush in the last month to collect extra pictures. We succeeded, despite our high demands on technical and artistic quality. Soon we will release the coverphoto.
39 ECODESTINATIONS
Next to culture, a second pillar of Ervaar Ghana will be the eco destinations. We have selected, together with our Ghanaian partners, 39 destinations. Important and well known highlights are included like Kakum NP, Mole NP and Elmina Castle, but also less known "community based"-destinations like the cacao village Adjeikrom or villages like Mognori, Gowrie and Gwollu. Each destination will be covered on a full colour spread (=2 pages) with a description, what to do and to see and practical information like the way to reach the destination.
SUPPORTING WEBSITE
The travelguide will come with a website for updates (latest contact information, new destinations, tips to sleep and eat) to make the book a long lasting product. Everybody can read on the website the destinations, share experiences and give his of hers opinion. We also will show useful organisations which can help you with your trip to and in Ghana, like travelagencies in Holland and Ghana. These advertisers made our project, next to other sponsors, possible. The current forum www.coolywooly.nl/forum.html will soon move to the new site: www.ghana-verkeersbureau.nl.
GHANAIAN VERKEERSBUREAU
After the launch, the project "Ga naar Ghana" won't be finished. More promotion on Ghana is needed. The plans are currently being discussed with the Ghanaian Ministery of Tourism. Soon, the current lack of information on the big travelsites, like www.anwb.ml, will be solved. We will take the responsibility to become the Ghanaian "Verkeersbureau". This Dutch word means that we provide useful information about travelling to a foreign country without being a commercial party like a travel agency.
TON VAN DER LEE ON "ERVAAR GHANA"
The Dutch author of books about Ghana and Africa, like "De Afrikaanse weg" and "De geestbewaarder" wrote the following testimonial: "Ervaar Ghana is written with knowledge on, and love for, Ghana. You can feel, smell and taste the country. I recommend this book for everyone willing to get to know Ghana from within."
VISITOR NUMBERS STILL HAVE ROOM FOR IMPROVEMENT
The need to promote Ghana as holiday destination is still high. Visitor numbers have dropped as a result of the current crisis. This is not good for Ghana and it strengthens our believe in our cause: promote Ghana!
GRAPHICATION IS DESIGNING
At the moment Designstudio Graphication in Arnhem is changing our word-files to nice pages in a good design. The first previews are making us want to see the final version rapidly. So beautifull. Graphication was willing to work for a rate which reflects our limited funds and their willingness to donate substantially to Ghana as well. So please make use of this bureau if you have work to outsource: www.graphication.com.
ONE OF OUR PARTNERS: HIVOS
A substantial part of the cost of printing is being financed by a donation of HIVOS (www.hivos.nl). Why? Hivos explained it with referral to their policy and mission to provide every citizen in the world with equal access to opportunities and means. They state this as follows: 'The project matches local Ghanaian (tourism) products and consumers on a sustainable manner. This will improve free and fair trade in a sustainable world"
GHANADAY 2009
November 4th 2009, the 5th Ghanaday will take place in Almere. The book will by then be available for a few months, but we will use this day for an official launch of the book. How? This is under discussion with the organizing committee. Interested in visiting the Ghanaday, please mail to: ghanadayholland@live.com.
BOOKING OF ECODESTINATONS AT NCRC
One of our Ghanaian partners is the Nature Conservation Research Centre (NCRC). They support the establishment and exploitation of "community based" eco destinations in the country. They have estabilished a central booking office in Accra. The supporting website soon will be live: www.ghanaecotourism.org. SNV Ghana will also launch their website soon, with special attention for the savannaland in the north.
SUPPORT POSSIBILITIES: INVESTING IN GHANAIAN TOURISM
The economic potential of tourism in Ghana and the importance of it, has the attention of the Dutch Government. CBI (www.cbi.eu) will support Ghanaian companies to find business partners in Europe, like touroperators. The Export Promotion Service supports Dutch companies willing to invest in Ghana together with the Ghana Investment Promotion Centre. More info on www.evd.nl. The improvement on consumer awareness, like our project, is pitifully excluded from these funds.
WE FINANCED THE BOOK
Long time, we had a big and difficult problem: how to finance this project. It has delayed the project as we had to spend a lot of energy in finding advertisers and applying for sponsor money. But we are happy to inform you that by the end of April, HIVOS was donating so we could print the book. The Triodos Foundation also sponsored us with a smaller amount. Together with a part of the expected earnings, we could decide to proceed printing and distributing the book. After 1,5 year of work, the Ghana promotion really can start!!!
MORE INFORMATION?
"Go to Ghana (reisgids)" is a project of Coolywooly Ervaringen in cooperation with among others NCRC Ghana, Ghana Tourist Board and Ontmoet Afrika. The projectorganisatie is member of the Holland-Ghana-Platform. The aim is to fight poverty in the rural areas of Ghana. A professional guidebook on travel and culture is their promotional mean.
Look in the menu for more info, or mail to: info@coolywooly.nl (also to be used for subscripe and unsubscripe)